Definition and causes of tendon ganglion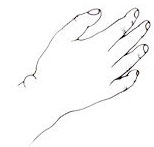 A tendon ganglion is a small fluid filled
lump (aneurysm) often occurring
around the wrist.
A tendon ganglion is a small benign lump, often no larger than a pea, which is placed in connection with a joint capsule or a tendon The ganglion shows as a bag shaped protrusion, an aneurysm, which via a stem often connects with the tendon sheath or the joint cavity. Inside the aneurysm is a thick fluid, which is produced by the inside membrane of the ganglion. Pressing on the ganglion it feels soft, possibly a little hard and springy.

Tendon ganglions often occur on the front or back of the wrist, the palm of the hand, by the stem of a finger, or at the upper side of the feet.
Symptoms of tendon ganglions
Besides the cosmetic aspect of a tendon ganglion there will normally be no symptoms connected with the condition. A ganglion in some cases can be associated with pain, and if positioned at the upper side of the foot there might be problems wearing footwear.

Even though a tendon ganglion is a benign condition, always consult a doctor if you discover a lump anywhere on the body. It is important to determine whether it is a harmless benign lump, or something potentially malignant.
Treatment of tendon ganglions
If the tendon ganglion is nuisance free no treatment is recommended. Often the condition will subside and disappear. However, once having been present there is an elevated risk that the condition will arise again.

If the tendon ganglion is associated with pain, or other nuisance it is possible to suck out the fluid using a syringe and at the same time inject an adrenal cortical hormone into the cavity. In most cases this treatment will eliminate the ganglion but with some risk of recurrence. Another possibility is a small operation to remove removes the ganglion.